Lots of randomness for you today...
I'm participating in the Cold Hands, Warm Hearts swap hosted by
Illy
and
Sandy
! I know, I live in Hawaii and don't need any cute gloves this winter. BUT we won't be here forever and I'll be sure to have some cute winter accessories when I return to my beautiful seasons!
I got my swap partner the other day--Piper from
Reviving Remnants
! She's so sweet and I just love her name. Her and her husband just got back from teaching in Southeast Asia--so awesome. Visit her blog and show her some aloha!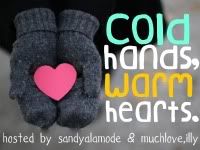 I am no longer a Craigslist virgin. :) Proud of me?? On Saturday, Chris and I found a fabulous little dresser. At first we thought it would be great for the bedroom but realized it was waaay too short--but it works perfectly as an entertainment center! I've been using a tiny nightstand for our tiny tv and it was just looking way to discombobulated in there. I'm loving the dresser. (It also doubles as storage for my Etsy shipping supplies! Woo!)
(Yeah, I know I need to fill that frame with something...)
We made the most delicious salad on Monday night. Arugula and spinach topped with beef tips, gorgonzola (or feta), pomegranate seeds (or craisins), orange bell peppers and pears. Drizzle on some balsamic vinaigrette and you've got the most flavorful, colorful and delicious meal.
Oh-- AND I took the plunge. I bought my ceiling medallions the other night! I'm so excited for them to get here! In case you are wondering, I bought them from CSN.com and ceilingmedallions.net. Thanks for all your supportive comments on my latest design dilemma! Here's one of medallions I ordered. I think it will look lovely in a creamy shade of yellow. :)
This is what my statcounter map looked like yesterday. I love, love my international readers and I feel so blessed that I have friends from all over the world hanging out in this little corner of the web. If you're from outside the US, please say hi (or hola, or bonjour or whatever it is you say) today!
And finally-- a big welcome to the newest sponsor on AisletoAloha--
WoodstockNYC
. They're a husband and wife team from NY and we'll be hearing from them in an introduction post soon. Check out their beautiful handmade jewelry!
Ok that's all I got for you, friends! Have a fabulous Thursday!